Title IX Remix: will new rules on sexual harassment & assault investigations serve justice?
"If it goes into effect, this rule will make schools more dangerous for all students," said a statement by the National Woman's Law Center.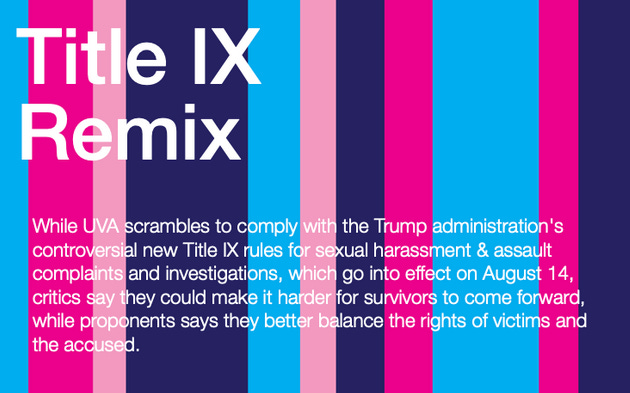 Eight months ago I filed a Freedom of Information Act (FOIA) request with the US Department of Education for information about a Title IX investigation that was opened at the University of Virginia on April 19, 2019, thinking it might provide information and insight about a process often shrouded in secrecy. Last week, I received a 930-page PDF document about the case from the Department of Education's Office for Civil Rights (OCR), longer than any novel I've ever read, but it ended up being a short read — all but 9 pages were redacted and blank, and 3 of those pages had had the relevant content removed, 2 were copies, and 2 were consent and procedure forms. What remained were 2 pages with a few sentences from the person filing the complaint and one word confirmation that the complaint was about "sex."
The person's name, sex, the date the complaint was filed, who the complaint was against, any kind of account of the incident(s), and whether or not they were a UVA student or employee had all been withheld. Oddly enough, the time of day that the complaint was filed remained: 10:16 pm.
Still, despite all the exceptions cited for disclosure of information on the investigation, despite a 930 page document being reduced to basically a few sentences, the frustration and determination of the person came through.
"I want an end to this ridiculous process," the person wrote. "I'm willing to do whatever it takes to rectify this injustice."
Out with the new, In with the old
While schools across the country are in crisis, facing often impossible questions about how to reopen amidst a global pandemic, the Department of Education, under Betsy DeVos, has been busy rolling out new regulations for Title IX sexual harassment and assault investigations that go into effect on August 14, regulations that women's rights organizations, advocates for survivors of sexual assault, and attorneys general from 17 states and the District of Columbia have challenged; regulations that could make the process even more "ridiculous" for survivors like the one in my FIOA request.
"If it goes into effect, this rule will make schools more dangerous for all students," said a statement by the National Woman's Law Center a few months ago. "The new rule…explicitly seeks "a reduction in the number of Title IX investigations" schools undertake by making it harder for sexual harassment victims to come forward…"
As the New York Times recently reported, the NWLC has ramped up its efforts to block the new regulations from taking effect, inviting more students to join their lawsuit against the Education Department, including a fifth grader from Michigan who "fear that her elementary school will not be required to formally investigate and punish her classmate for assaulting her four times over two months."
"The fear these students are living with show how real the consequences are of DeVos's rule," Shiwali Patel, the director of Justice for Student Survivors who is senior counsel at the law center, told the New York Times. "The rule isn't about evening the playing field — it's about directly harming survivors and making it harder for them to come forward."
Harvard University, and 60 other higher education institutions in Massachusetts, have argued that the new rules could "undermine rather than advance Title IX's very purpose" and "deter complainants from reporting discrimination and harassment," according to an article in the Harvard Crimson. Then in April, Harvard Law School professor Janet E. Halley, a Title IX expert, told the Crimson she thought it was "a terrible time to introduce demanding new guidelines…faculty and administrators and students all over the country are trying their hardest right now to catch up with the changes because of the pandemic."
In late April, UVA's Title IX Office had to suspend panel hearings because of the pandemic, though the Office said it would continue to "receive, respond to and investigate reports" remotely, according to a report in the the Cavalier Daily.
Indeed, the timing of the roll out of the new regulations appears to have caught schools off guard. UVA president Jim Ryan, responding a day after the new rule changes were announced on May 6, admitted there was a "quick turnaround time" to retool the universities current policy and procedures to be in compliance with the new regulations. He also sought to reassure the university community that some things would not change. "While a quick review of the regulations reveals specific requirements, there also appear to be some areas where schools have been given discretion to make decisions that are best for their community," he said.
I asked Emily Babb, Assistant Vice President for Title IX Compliance/Title IX Coordinator, via email what changes the university could expect due to the new Title IX regulations, but the email was rerouting to university spokesperson Wesley Hester, who said the following could be attributed to Babb: "The Office for Equal Opportunity and Civil Rights, which includes Title IX, is currently in the process of gathering and evaluating feedback from the University community regarding the new regulations and assessing any changes. We will be communicating those at the conclusion of the process."
Since the new rules go into effect August 14, Hester said he expects the results of the feedback would need to be available in early August.
According to Claire Kaplan, former Program Director of the Gender Violence & Social Change office at the University of Virginia Women's Center, there are a number of problematic changes in the new Title IX regulations. Kaplan retired in June after nearly three decades serving as an advocate for sexual assault survivors and domestic violence victims at UVA.
"Title IX is not a criminal justice process, it is a civil process, but the new regulations try to make it more like a criminal process," says Kaplan.
Indeed, the new regulations attempt to make the Title IX investigation process more "trial-like" by adopting criminal justice-style processes, including the use of term "alleged" to describe victims and live hearings in which "advisors" [who can be lawyers] will be allowed to cross examine the opposing party and their witnesses. Of course, as the Department of Education has asserted, this is simply about "restoring due process in campus proceedings."
But Kaplan says that legal framework is troubling, "because we know that frame work is highly bias against women and/or marginalized populations."
In 2019, Virginia Del. Joe Lindsey, D-Norfolk introduced legislation that mirrors the Department of Education's new regulations, requiring the parties to face each other in a trial-like proceeding, but the Virginia Sexual and Domestic Violence Action Alliance opposed it, calling in a "terrible idea" that would "deeply retraumatize victims of violence."
But that's exactly what's behind the new regulations, a desire to return to a legal framework for Title IX sexual harassment and assault investigations that was established by a couple of Supreme Court decisions handed down over two decades ago. Those decisions that held that schools receiving federal money can "be held liable for sexual harassment of students by their teachers or peers only if it had "actual knowledge" of the misconduct and responded with 'deliberate indifference.'" Moreover, the Court said the misconduct in question must be "so severe, persistent, and objectively offensive that it effectively bars the victim's access to educational opportunity."
The reactions to the new Title IX regulations have, of course, been politically partisan, with Democrats saying they will further silence victims and make it hard for survivors to come forward, and Republicans saying they will make the process more fair by strengthening due process rights for the accused. Jeannie Suk Gersen, a Harvard Law School professor and staff writer for the New Yorker, tried to cut through much of that in a recent article by addressing the "large gap between reality and rhetoric on the topic" of the new Title IX regulations. Gersen argues that the the new regulations, while not perfect, are simply establishing proper due process for the proceedings.
"They are not exactly as I would wish," she wrote of the new regulations, "but they clarify the rights of both victims and the accused in a way that is likely to lead to improvements in basic fairness."
For instance, Gersen believes that the lower "preponderance of the evidence" standard (a more than 50% chance that something is true), which is used by UVA to determine if sexual harassment or assault occurred, along with the "pressure to protect victims" under the old Obama era Title IX regulations, has "led to an over correction: accused students were facing expulsion or suspension without fair procedures to defend against disciplinary charges." She points out that "hundreds of accused students have sued their schools for using unfair disciplinary procedures, and have won court judgments or received settlements. Courts have held that, just as it is sex discrimination under Title IX for schools to treat female victims of sexual assault unfairly, it can also be sex discrimination under Title IX to treat males accused of sexual misconduct unfairly."
Here in Charlottesville, the infamous and discredited 2014 Rolling Stone article — and the ensuing media storm — which depicted a 2012 gang rape at a UVA fraternity house dramatically illustrated the the potential problem with a "believe the victim first" approach to handling sexual assault accusations. But at the same time, as I reported later, no UVA student at the time had been expelled for sexual assault or rape in the previous 10 years. Asked if anyone had been expelled for sexual assault in the 45 years since the school began enrolling women, the University's spokesperson at the time, Anthony Paul de Bruyn, claimed he did not have access to those records.
A recent story in CVille Weekly would also suggest that many in the UVA community feel that "males being treated unfairly" isn't necessarily a problem at UVA, and that, in fact, not enough is being done to support female victims. A controversial and anonymous Twitter account (@ExposedUva) that was launched in June began to "expose abusers, r*pists, stalkers, or harassers" at UVA by asking victims to anonymously submit accounts — and naming names — of sexual assault or harassment incidents. The account was quickly followed by thousands of people, and many incidents were reported. However, even members of the student advocacy and support group UVA Survivors began to realize the account was problematic, as it could expose survivors to harassment and retaliations; while the accounts might be anonymous, it wouldn't be hard for the accused to figure out who was posting them, they said.
The Twitter account did, however, draw attention to an existing petition created by UVA Survivors, which was calling for the "immediate, structural, and transformative change of the university's sexual violence prevention and support services."
"The fact that UVA's one sexual violence prevention staffer quit in January and our only survivor advocate is retiring this month [editor's note: Kaplan] should help you understand how we got here," tweeted one female UVA undergrad, tagging UVA President Jim Ryan and UVA Dean of Students Allen Groves." This Twitter account was a long time coming."
Severe, pervasive and objectively offensive
How will the new Title IX regulations change the process? Here are a few examples:
Definition of sexual harassment: this has been altered as well, from behavior so "severe, pervasive or objectively offensive" that they prevent a person from participating in an educational program or activity, to "severe, pervasive and objectively offensive."
This narrower definition will "restrict the kinds of cases that can be process through Title IX," says Kaplan.
Indeed, even Gersen said she thought the definition was too narrow, and that "severe or pervasive" would have been "…in keeping with the Supreme Court's workplace-harassment standard—given that a sexual assault may be severe but not pervasive, and some sexual or sexist remarks may be pervasive but not severe." She went on to say that the language "leaves uncovered some verbal conduct that doesn't rise to the level of "severe, pervasive, and objectively offensive."
Off grounds incidents: in addition, violence that occurs in a private apartment off grounds will no longer be covered under the new Title IX regulations. However, Kaplan says UVA may develop its own non-Tile IX policies and procedures for conduct that occurs off grounds.
Reporting: currently, you can report an incident any number of ways at UVA, to Title IX coordinator, through Just Report It, or to UVA law enforcement. These reports, in whatever form, obligate the university to respond. Under the new regulations, however, a formal complaint must be made directly to the Title IX coordinator, otherwise the university is not required to respond. If it isn't done this way, that means there would be no grounds for a lawsuit if they don't respond.
"Survivors who are ambivalent may be further dissuaded by the "formal complaint" requirement," says Kaplan.
Live hearings and witnesses: as mentioned earlier, the new regulations also require that live hearings be conducted, with "advisors" being allowed to cross examine the opposing party and their witnesses, and an appointed "decision maker" who runs the hearing. The "advisors" of course, can be lawyers, quite well-paid and aggressive ones if someone can afford them, though "decision makers" are advised in the new regulations to prevent aggressive or intimidating cross examination. While the new regulations allow either party to request to be in separate rooms using technology, like Zoom or closed circuit TV, the new requirement "creates a trial-like process that is inherently difficult for survivors," says Kaplan.
"The specter of lawyers cross examining the parties and witnesses will turn the process into a quasi trial, something that we were trying to get away from," says Kaplan. "This will require individuals with great fortitude to mange "advisors" who will often be attorneys."
Free speech: the new regulations also drag the First Amendment into the process when it comes to retaliation, and includes this statement: "the exercise of rights protected under the First Amendment (free speech) does not constitute retaliation."
"This is a minefield," says Kaplan. "My biggest concern is that verbal harassment that squishes into the "first Amendment" area is allowable, even though it impedes a survivor's ability to live her life."
The cost of new regulations
There are a host of other changes to the current Title IX regulations, but according to Kaplan, the university does, as UVA President Ryan said, have the ability to craft their own policies and procedures within the rules and guidelines, and its likely there will be some institutional push back on the new regulations. But public institutions will need to be careful about how much they deviate from the new regulations because they could risk being denied federal funding.
What's more, as Gersen wrote, the new regulations aren't going to save institutions money as DeVos's Education Department originally promised.
As a side note, Gersen buries a revealing observation near the end of her piece, saying that the Department of Education's early predictions about cost savings relied on assumptions that "worryingly, there would be a reduction in the number of Title IX cases owing to a narrowing of what must be investigated." Which would appear to be an admission that the new regulations would discourage people from coming forward.
"In the final regulations, the agency acknowledges that there will be more costs than savings from the new regulations, projecting more than three hundred million dollars in increased costs in the coming year alone," Gersen wrote. "The expense will be painful at a time when many educational institutions face financial devastation, and some may even be in danger of shutting down for good."
Community colleges, according to Inside Higher Ed, could be particularly hard hit by the cost of implementing the new regulations, since they don't have the kind of resources that larger public universities have.
Meanwhile, one wonders what all this means for the person at UVA in my FIOA request, whose case must now adapt to all these new changes when, clearly, the existing process is frustrating enough. Or, in general, for Title IX cases moving forward on campuses without, or with fewer students or faculty who may be working and studying virtually for the foreseeable future.
"I was told that the retaliation and harassment I was experiencing did not merit action by Title IX,' the person in my FIOA wrote, late in evening, and likely long before the case records reached 930 pages and these new Title IX regulations were announced." All my outcries to administrators at UVA have also been ignored."
Kaplan, for her part, isn't surprised by the length and likely complexity of the case document, or the person's clear frustration.
"I don't know anyone who finds this process easy," she says.
Additional resources:
Department of Education PR: Secretary DeVos Takes Historic Action to Strengthen Title IX Protections for All Students
Department of Education Summary of Major Provisions of the Department of Education's Title IX Final Rule
Message to the University Community from UVA President Jim Ryan
Just Report It: UVA's online system for reporting Sexual and Gender-Based Harassment and Violence and other abuses.