Slave Block: historical marker thief disrupts the narrative in Charlottesville
We naturally want what happens in the world to reinforce our notion of reality, to serve as examples of the things we believe in, but the truth, as Oscar Wilde observed, is rarely pure and never simple.
When the historical marker for the slave auction block in Court Square went missing in the early morning hours of February 6, many in Charlottesville were quick to assume they knew what had happened and went on to frame the narrative: racists and white supremacists upset about the effort to remove our Confederate statues clearly stole the plaque. What's more, some said the police were trying to pin it on anti-racists. More than two years after what's known here as "A12," the day nazis and white supremacists terrorized Charlottesville — and local officials and police failed to protect our community — many are still on edge.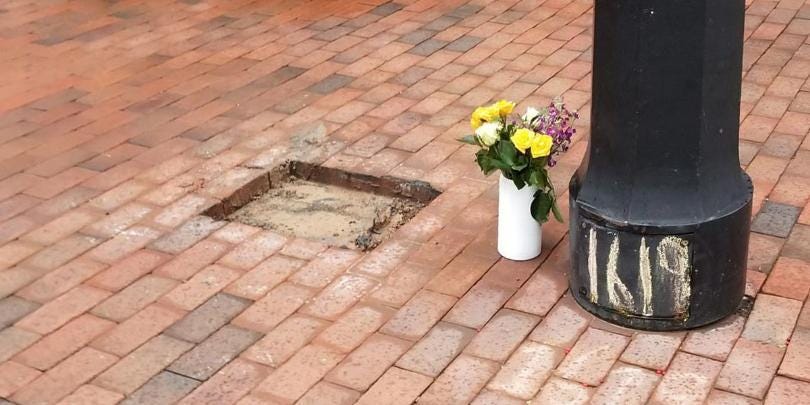 "It's obvious they [the police] think the scary left has done this," wrote a commenter on The DTM.
"….police are trying to spin the narrative in which anti-racists stole this historical marker, the only marker in that space that remembers enslaved people," wrote Molly Conger, a citizen journalist and nazi hunter, on her Twitter page. Conger, who is white, began tweeting earnestly in the aftermath of A12, and today has over 46 thousand followers. "…it is far more likely this plaque was stolen as an act of retaliation by racists who are upset the statues will come down."
"They also stole the historical marker for antebellum black history. But notice in the background — the 19th c. horse trough and its plaque remain unscathed," wrote local activist and UVA historian Jalane Schmidt, who is African-American, on her Twitter page, talking about a plaque that was on the side of the building above the slave block marker. Schmidt has been leading popular tours of the City's Confederate monuments since A12, exposing the Lost Cause ideology behind them, and was recently sued [unsuccessfully] for defamation by someone seeking to keep them from being removed. "So this is clearly targeted at the very few, very small remembrances of our community's 19th c. black history," she wrote.
Andrea Douglas, the African-American executive director of the Jefferson School African American Heritage Center [who leads the monument tours with Schmidt] told local TV station NBC29 that it was "unexpected" and a "shock" when she heard the historical maker had been taken, and said the city should have done more to protect the markers to the enslaved after it has added measures protecting the Confederate monuments.
"It is a travesty that it has been removed," said Charlottesville Police Chief Rashall Brackney, an African American woman who replaced former Police Chief Al Thomas. Thomas, who was also African American, stepped down following criticism of his handling of the A12 event."It dishonors those slaves who were sold in auction off in this very space, and we are doing everything that we can do to bring honor back," said Brackney.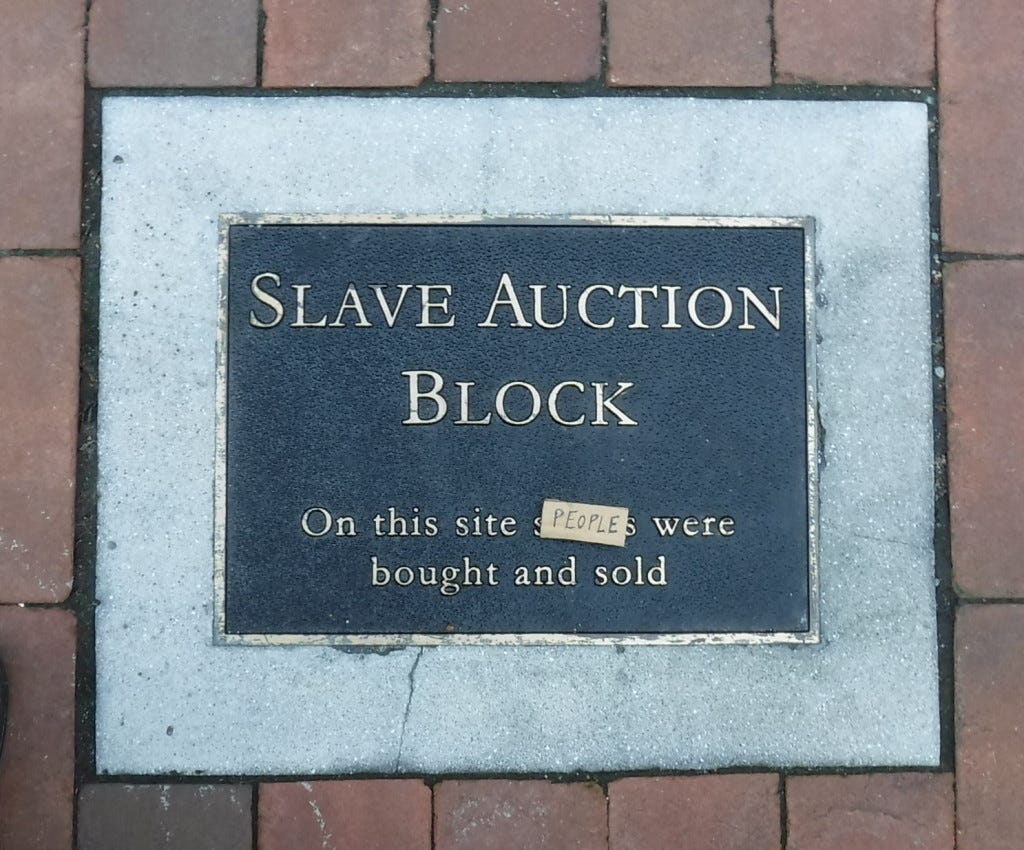 CNN, The Guardian, The Hill, and other national news outlets reported on the theft of the historical marker. And it quickly became a national news story.
As it turned out, however, the story took an usual twist. Seventy-five-year old Richard Allen, an amateur local historian and environmental activist admitted to taking the historical marker "out of respect to the enslaved persons in my own family's personal history," and because, as he told C-Ville Weekly late on February 7, "he found the plaque's placement in the sidewalk to be insulting, and that he acted after years of frustration that nothing was done to create a more fitting tribute to the enslaved laborers who built much of Charlottesville….I removed the insulting plaque and have ensured that it will not be recovered." It also turned out that the historical marker for antebellum black history that Schmidt had mentioned had not been stolen, and that the owners of the building had removed it because it had been damaged.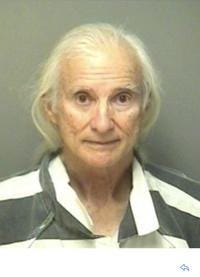 Richard Allen
Allen, who is white, said he became concerned about the plaque after reading a 2014 letter from local civil rights icon Eugene Williams, who criticized the removal of a slate plaque that had once hung against the side of the building, and felt replacements plaques in recent years were hard to see and insufficient, and insulting, as historical markers.
"It became very clear to me that, for many in Charlottesville, it is the height of insult to place the history of Charlottesville enslavement on the ground where people with dirt on their shoes can stand upon it," Allen told C-Ville Weekly.
Allen has also hinted that he threw the historical marker in the nearby James River, but that has yet to be confirmed.
Allen had attended the deadly Unite the Right rally [A12], and supported the removal of the City's Confederate monuments, but he was also concerned about improving the nearby slave memorial, which a local commission had purposed before A12. Last November, he said he contacted City Council to ask why there had been no progress on a new memorial, but received only what her referred to as a "terse" response from Vice Mayor Heather HilL
About three weeks before Allen removed the plaque, he met Richard Parks, 68, a retired social worker, according to the Washington Post, who had taken to using "chalk to replace the word "slave" or "slaves" with "human" or "people" on the plaque. He also places flowers and signs at the site to draw people's attention."
Allen, apparently, revealed his plans to Parks, even showing him the crowbar he planned to use, but Parks was reluctant.
But at about 2:30am on February 6, Allen used his crowbar [and a screwdriver] to removed the plaque, threw it in the back of his car, and drove away. Parks told the Post that Allen called him at 4:00am.
"He wakes me up and says: 'Richard, I want you to delete all my contacts off your phone, delete my emails. I did something," Parks told the Post.
As the story broke, Allen realized that Parks, who was known for his activities concerning the plaque, was being suspected of stealing it, so he contacted the police and told them that a "friend," not Parks, had not taken the plaque. The next day, however, Allen decided to tell the police the truth, and did the interview with C-Ville Weekly from the police interview room.
Still, the police did not arrest or charge Allen immediately after his confession. Parks, for his part, later replaced the missing plaque with a homemade one. "Human auction site," it said, "In 1619 the first African kidnap victims arrived in VA. Buying and selling of humans ended in 1865. For 246 years this barbaric trade took place on sites like this." It was quickly removed by the City.
"My whole goal is to raise awareness, get attention and get things changed," Parks told local TV station CBS19. "There should be a 30 foot high monument on this corner to the barbarity of slavery. I mean to the tragedy of slavery and to the courage of and the strength of the people who endured through all out that."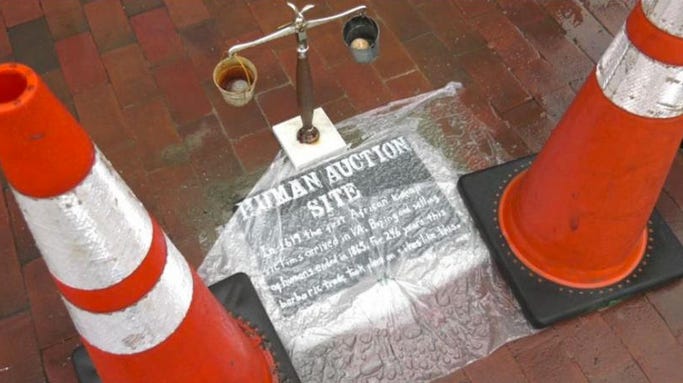 Homemade plaque installed by Richard Parks.
Following that interview, there wasn't any immediate commentary or reporting in the media about this new twist in the story, despite the national attention it received, as the narrative that had been gathering steam was suddenly derailed.
Conger, once the news about Allen broke, decided to re-frame it.
"A text book example of white liberalism meaning well but doing harm," she wrote on her Twitter page.
Schmidt had a more nuanced response: "…when #public history goes rogue," she wrote on her Twitter page.
Chief Brackney, too, re-framed her comments in an article that finally appeared in the Washington Post, saying, "Regardless of the motive, it is still a crime to deface the plaque that was there and was honoring those slaves that were auctioned off from that particular block. We have an individual who announces that their family was in fact slave owners. Once again, his family and his privilege has decided how those slaves and their descendants would be honored."
"A ‪brilliant act of non-violent resistance and I applaud the fact that he owned up to it," wrote a DTM Facebook page commentator, who is white, about Allen. "The fact that we are all now talking about this is the best lesson."
However, even after the C-Ville Weekly story came out, many people in town who had assumed it was the work of racists and white supremacists were skeptical of Allen's story, "Why should I believe his reason for taking the marker?" said another DTM Facebook page commenter, who is also white. "People have recently placed flowers at this site. Many people stopped and reflected here. Maybe a marker in the ground was not the perfect response, but who is he to decide on his own?"
Alternately, Tanesha Hudson, a local African-American activist and entrepreneur, thanked Allen on her Facebook page:
"Not many of US are mad that the auction block was missing, people barely see it anyway unless they walk looking down," she wrote.  "Please let me know your court date. I'm happy to come support you. The reality is that's how Charlottesville think of us blacks we're nothing to this city and even when they call themselves honoring us they do it in the most disrespectful way. All black historical markers are so small you either step over it or you have to squinch your eyes to read / see it. Please know you have black supporters. F that slave block. Until it sit up high like Lee I could care less."
As for the Daily Progress, our local weekly, they seemed to be anticipating new twists to the story, refusing even to name Allen in a February 11 story about the missing historical marker, saying "City police are investigating the marker's disappearance as a larceny and haven't arrested anyone. An Albemarle County man claimed in an interview with C-Ville Weekly that he took the plaque and threw it in the James River, but his claims cannot be verified by official sources." According to DP reporter Nolan Stout, they were simply doing their due diligence.
However, just hours later, the paper reported that Allen had been arrested, while he was being interviewed, and charged with grand larceny and "possession of burglarious tools."
"It is my strong personal belief that we are in a time of political and moral paradigm shift," Allen told the Daily Progress right before the police arrived at his home and the phone line when dead. "…I have come to believe that that shift requires me to go deep inside my own self and say what I can I do to repair the horrible and brutal history toward Native and African Americans, and it was out of that motive that I acted for reparation, a deed of reparation."
Allen posted bond and was released. He is scheduled to appear in court on February 13.
Allen's actions have also given renewed attention to Eugene Williams' 2014 letter, which just might lead to a more serious discussion about a proper historical marker/memorial for that corner of Court Square:
"It appears that to Charlottesville's government, black history does not matter. I have not seen one letter or heard any concerns raised about the historic marker that was removed from 0 Court Square. The slate plaque, which marked the site of Charlottesville's slave auction block, disappeared at some point — even though other plaques on buildings on Court Square remained. Recently, the plaque — with white text in a large font that was easily visible from a distance — was replaced by an unobtrusive marker set into the sidewalk and a dark-brown marble plaque on the wall. The plaque is difficult to see, let alone read. These questions come to mind: When were the slate markers put on buildings on Court Square? Who decided to remove the "Site of Slave Block" slate, and why? When was it taken down? Were the City Council and city manager informed that the slate had been removed? Slates on other buildings on Court Square can be read from a distance — but the replacement plaque, because it is nearly the same color as the surrounding brick, is almost invisible unless a person is already close to the building. As for the marker in the sidewalk, I doubt that people walking past even notice it. Are any other historic markers in the city relegated to the sidewalk? Finally, were any African-Americans or the University of Virginia history department consulted before a marker that documented slavery — such a shameful chapter in Charlottesville's and Albemarle County's history — was eliminated?" — Eugene Williams, Charlottesville, 2014
Contacted by C-Ville Weekly, Williams applauded Allen for speaking out, if not his actions, and said his feeling about the side walk plaque had not changed. "We cannot overstate how important the free labor of slaves was to the financial foundation of Charlottesville," he said.
Allen's actions have already prompted the local Historic Resources Committee to consider proposals for a temporary replacement of the missing plaque that marked the site of slave auctions in Charlottesville, and will likely push to the forefront a proposal that was already made to commission a new, more substantial memorial for the site. In a City that has suffered so much for trying to remove certain local memorials, the next fight could be trying to get one built.
As for Allen, who nonetheless appears to have committed two felonies, how his situation unfolds will further test the community, given that two men who vandalized a Confederate statue in Court Square back in December, during the early morning hours like Allen, are scheduled to appear in court this month.
"It will be interesting how the Charlottesville criminal justice system treats the men who are accused of knocking chunks off the statue of Gen. Stonewall Jackson," said life-long Charlottesville resident David Rhodes in a recent letter to the Daily Progress. "All the law-abiding citizens of this area who wish that all the monuments be left alone want is respect and equality."
Lastly, the New York Times weighed in on the story, declaring that "amid conversations over how best to acknowledge the extent to which Charlottesville's history was formed by racism, enslavement and discrimination, the removal of the auction block plaque by a white activist has raised new questions about who should shape that narrative, and how."
However, the Times missed a key element of this story, which was the mental whiplash many people experienced when it was discovered that an anti-racist had actually stolen the marker, and not a white supremacists targeting the black community and/or seeking retribution for the City's efforts to remove its Confederate monuments. Indeed, the initial reaction for many was anger, and fear, followed by paranoia concerning the motives of the police and skepticism about the anti-racist marker thief's confession. However brief, that disconnect and confusion was a window into our current community dynamics, a symptom of the trauma we've experienced, and an example of ideology confronting unexpected reality.
Updates on this story:
2.13.2020 – Hearing pushed for man charged with removing auction block marker
2.25.20 – Temporary marker discussed
The city's initial suggestion, a waist-high obelisk with a plaque on the side, was rejected by subcommittee members and guests as not impressive enough. An idea that garnered more support was a six-foot-tall metal sign inscribed with the text from an 1852 letter written by Maria Perkins, an enslaved person whose family was splintered by sales in Charlottesville.