Saying Goodbye: Main Street Arena Architect Reflects on its Demolition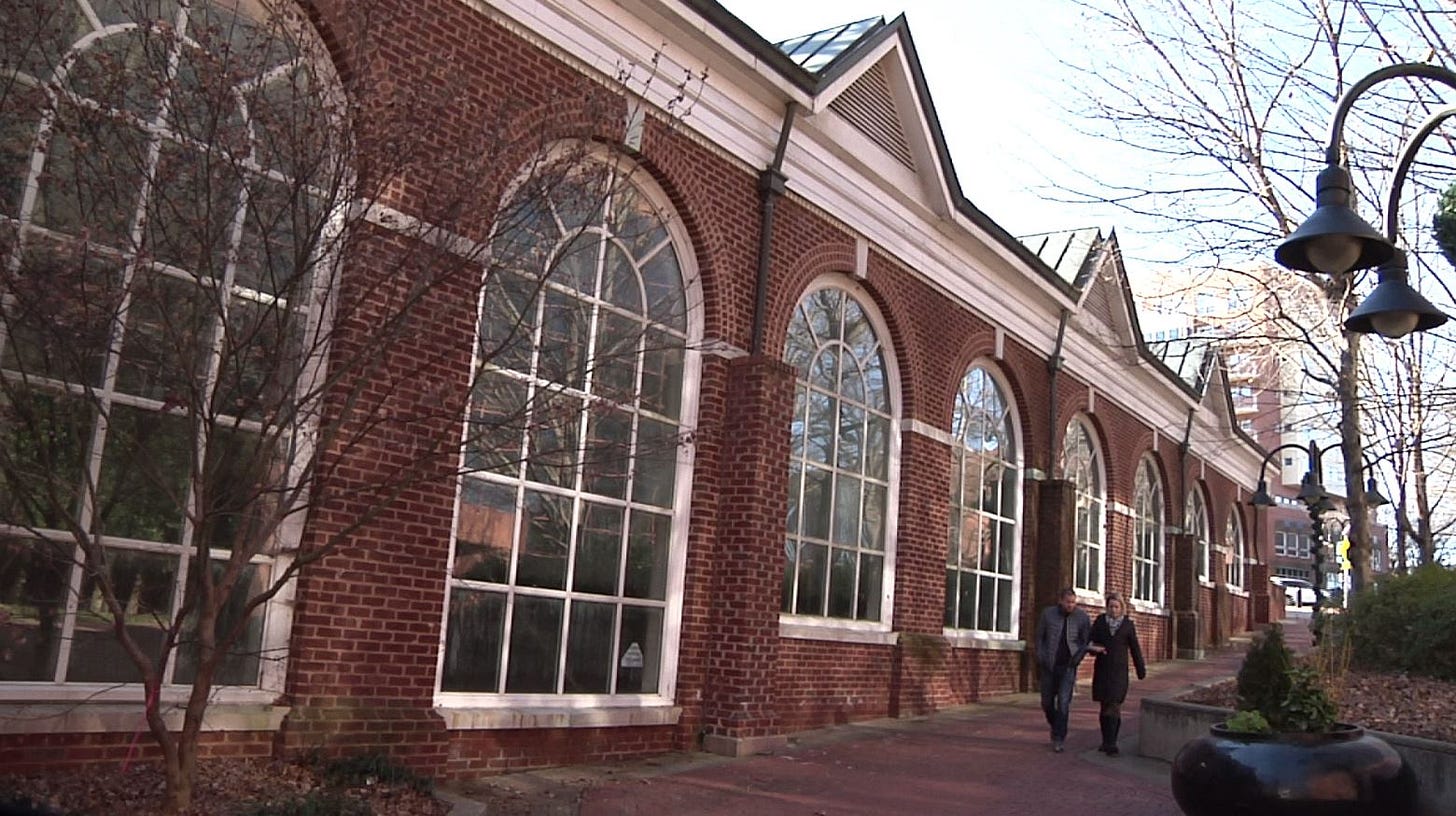 Local restoration architect Henry J. Browne, now in his 80s, has been stopping in for coffee at the restaurant at the Omni Hotel this past week, not necessarily for the coffee, but for the view it provides of the building across the way that he designed over 20 years ago, and which is about to disappear.
"It's sad," says Browne, standing out in front of the Omni earlier this week, joined by his friend, Roger Voisinet, a real estate developer and local investor in the Main Street Arena, who also famously helped bring the UVA men's hockey club to the arena. "This is only second time I've lost a building of mine. Both buildings were landmarks, but I've been fortunate. Many architects have lost many more buildings than that."
After a few minutes with Browne, it's suddenly clear how difficult it must be, for both the architect and those who actually constructed the building, to await its destruction, especially when the building is in perfectly good health and has become a local landmark.
"I love the idea of repurposing the Main Street Arena," said Voisinet in a comment on The DTM Facebook page. "I calculated they could have 55,000 to 60,000 square feet of office space without tearing down MSA by only adding internal mezzanine floor space. They would not be able to add parking this way though."
Of course, instead of repurposing the MSA building, the current owner, hedge fund manger turned developer Jaffray Woodriff (and now UVA's largest donor), has chosen to dismantle the building and put up a new, 7-story headquarters and community space for the two dozens or so tech start-ups he has invested in. Indeed, as Browne and Voisinet point out, the building is going to be "dismantled" piece-by-piece, not leveled with a wrecking ball, and hopefully the beautiful windows, the solar panels Voisinet was involved in installing, and other materials will find new homes.
"The idea was to bring the old and new together," says Browne of his original design idea. "I wanted to make sure the building had a certain amount of class to it, and that it wasn't just a metal building for an ice rink." That appears to have been a challenge, as the original developer of the MSA building, Lee Danielson, was somewhat cost-conscious, while Browne, a distinguished restoration architect, didn't come cheap. "I originally designed a large, beautiful balcony on the Water Street side of the building," he mentions, "but it wasn't built…they didn't have the budget."
For over two decades, while ownership of the MSA building has changed hands and its future at times was uncertain, passerby have peered through the familiar row of tall neo-Palladian windows across the from the Omni to see all kinds of things -- rough and tumble hockey games (and sled hockey, too), graceful figure skaters, wobbling first-timers, kids shuffling buckets around, couples holding hands, teenagers dive-bombing each other, moms and dads standing watch around the edge of the rink, the giant Zamboni smoothing the ice, curling and roller derby matches, conventions, festive parties, Virginia Film Festival events, and even MMA cage fighting that also took place at the venue. On the other side of the building, the Ante Room was one of the only venues in town to showcase local hip-hop and metal acts, and next door, Escafe, a bar and restaurant that began as Eastern Standard in the space where the Whiskey Jar is now more than 25 years ago (where a guy named Dave Matthews and some other musicians did open mic nights for $50 and beer), provided a colorful late-night club scene courtesy of the local LGBTQ community that we are not likely to see on the DTM again anytime soon.
"It's sad they are not paying attention to what we have here," says Browne, looking at the building he designed for perhaps the last time. "It's why I've been coming down here for coffee."