Opinion: is the City Yard really under-used? And was it really a former neighborhood?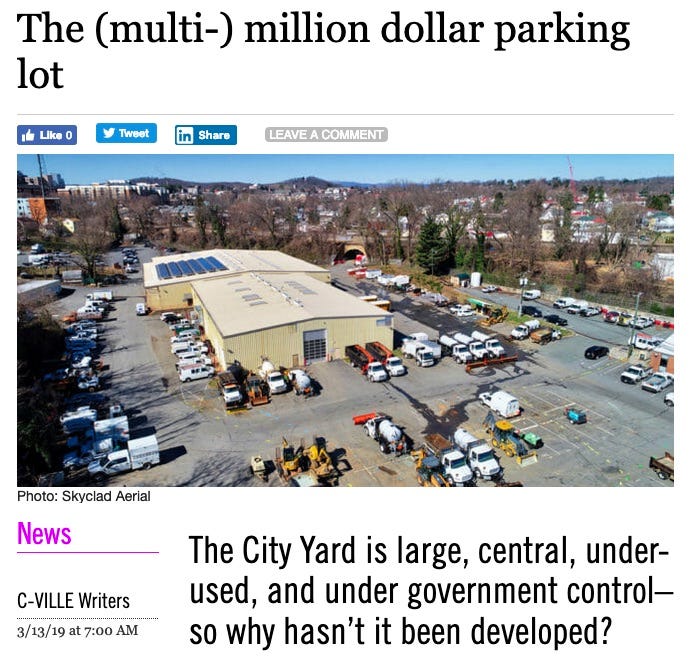 C-Ville Weekly claims the City Yard is an under-used parking lot, which could be true, but where is the evidence of this in this article? There's a throw-away line about it being a place for "parking dump trucks" and Charlottesville City Councilor Kathy Galvin calling it "a big asphalt parking lot where we store our brine for de-icing streets," but that's pretty much it. However, according to City spokesperson Brian Wheeler, the City Yard is home to the following local government activity: Utilities (gas, water, wastewater, stormwater), Facilities Maintenance (for 50 City-owned public buildings and 9 City School buildings), Public Service (streets, signals), Fleet maintenance (there is a fueling station there, too), Facilities development (handles planning, design and construction of projects in the City), Environment (handling a wide range of Environmental Sustainability projects), Police logistics, Warehousing, Risk Management & Procurement, Public Works and Utilities administration, and Weather emergency operations. The Warehouse stores thousands of items, everything from utility fittings, gas meters, water meters, chemicals and piping. The Procurement & Risk Management Division of the City also manages City surplus property (including police confiscated items) at the location, and there's an ongoing online auction where people can buy city surplus at discounted rates. There's also an onsite retail event at the location the first Friday of every month from 12pm to 3pm where people can buy surplus. The City Yard is also home to one of the City's largest CitySolar operations.
Is the City Yard really under-used? That would be good to know. Maybe it is. But maybe it might have been worth talking to someone at the City Yard to find out what goes on there.
This article also strains so hard to characterize the City Yard property as a former "neighborhood" somehow separate from the Star Hill Neighborhood, to support its premise, that it actually refers to the City Yard location as the "former gashouse district," which, if you search "gashouse district, Charlottesville," you'll find this article all by itself at the top of the page. Yes, there once once a gas facility there long ago. But who has ever referred to it as the "gashouse district?"
"Artist Frank Walker, who grew up in the Starr Hill neighborhood above the site.." No, the City Yard is, and always has been, a part of the Starr Hill Neighborhood. Or "A century ago, there was a neighborhood where the City Yard now stands." The City Yard was not a neighborhood. It was a part of a neighborhood, a very small neighborhood, and actually one of our most fascinating and historic neighborhoods, which this article should have been more about. Here's a great oral history of Star Hill by Pat Edwards, who is quoted in this story. At no time does she mention the City Yard or the "gashouse district." : https://www.studycenter.net/lectures/oral-history-starr-hill
The article also wants us to seriously question why the City Yard hasn't been developed: "Despite its condition, the City Yard site could have notable advantages for a new developer." But then later City Manager Mike Murphy is quoted saying an environmental remediation project to clean up the site, which is believed to be contained by gas, could cost between $250,000 to $3 million. Hmm...that might give a developer pause.
The article quotes a local activist saying that a newly formed development group, New Hill, which is focusing on redeveloping the Star Hill Neighbored, is using "minority faces" to get city funding for a business agenda tied to wealthy white board members, including John Kluge, son of the late billionaire, and Champion Brewing Company's Hunter Smith. I wonder how Mr. Kluge and Mr. Smith feel about that? We don't know because they weren't asked.
"This week's feature is a story about a vanished neighborhood, a legacy of indifference, and the new possibilities in a city now more willing to consider the needs of all its residents," says C-Ville's editors.
Yes, I understand what this article is going for, trying to show how our ugly history of racial discrimination informs land use and development, and how, as the article plainly states, this history shows our "city leaders' historic disregard for the people and places at the center of town." But you can't selectively choose the facts and manipulate the scope of your backstory to get there.