New Fire Chief hire and Police promotions; welcoming Otto; the winter restaurant scene, and more...
Here's some interesting local history concerning our new Assistant Police Chief...
Officer James Mooney, who was just promoted to Assistant Charlottesville Police Chief, was at the center of the controversial DNA swabbing effort in the early 2000s, as he, the City, and then Police Chief Tim Longo were sued after Mooney obtained a DNA sample from a suspect at his home while investigating a serial rapist case. The suit was filed by Larry Monroe, who claimed that his constitutional rights were violated when Mooney asked him for a buccal swab to match Monroe's DNA against the serial rapist's. By 2004, police had swabbed over 500 Black males until community outrage over the practice and accusations of racial profiling caused officials to halt the practice.
The serial rapist, Nathan Antonio Washington, would eventually be caught based on a tip from a victim and would be sentenced to four life terms plus 20 years.
The next day, Charlottesville announced that the civil lawsuit against the city, Longo, and Mooney was dismissed. Monroe's attorney then announced they would appeal the ruling.
"And ultimately, we do note, they got the serial rapist the old-fashioned way," said his attorney.
Monroe would lose that appeal, but the decision here makes for good reading. Apparently, Monroe was at first a reluctant plaintiff in the case and first learned that he was filing a lawsuit by reading about it in the newspaper. Still, its amazing to read how the court justifies a situation where a person has to provide DNA evidence to police to prove his innocence, which would seem to go against everything the Constitution stands for, whether the DNA sample is given voluntarily or involuntarily. But the court rejected Monroe's Fourth Amendment claim:
"To agree that Monroe's subjective belief that he was not free to terminate the encounter was objectively reasonable because relations between police and minorities are poor would result in a rule that all encounters between police and minorities are seizures. Such a rule should be rejected. Thus, while Monroe's subjective beliefs may be facts, they are irrelevant facts that neither plausibly give rise to a right to relief nor suggest there are discoverable facts that may plausibly give rise to a right to relief." -- United States Court of Appeals,Fourth Circuit, August 31, 2009.
Welcoming Otto
Late at night in Paris, stumbling around after a few drinks, stepping up to one of the many doner kebab stands is one of the most mouth-watering experiences you can have, especially when its cold and you can feel the heat coming off the vertical rotisserie, the meat glistening as its expertly carved off into a sandwich. Second only to a falafel in the Marais or a good Croque Madame, which are best eaten sober. For years I've thought Charlottesville needed a doner kebab...finally! Welcome Otto Turkish Street Food.
Charlottesville hires first ever African-American Fire Chief
Amazing that all our local media glossed over the fact that Charlottesville just hired its first ever African-American Fire Chief. This is no small thing. The problem of diversity and inclusion in U.S. Fire Departments is well researched...and very striking. According to a 2018 report from the National Fire Protection Association (NFPA), 96% of firefighters are men, and 82% are white. Only 8.4% of firefighters are African-American. Compare that to the military, where 85% are men and 60% are white, or to local police forces, which are 88% men and 73% white. Chief Smith rising up through the ranks under these circumstances is a special achievement.
Fifth Street Drag Strip — is the answer speed enforcement or redesign?
"The design encourages high speeds," said Brennen Duncan, the city's traffic engineer. "That stretch of road [between Harris Road and Elliott and Cherry avenues] is straight and wide, and there is nothing giving people the signal to slow down."
Sketch of the Day: "An awkward moment at the Trump rally"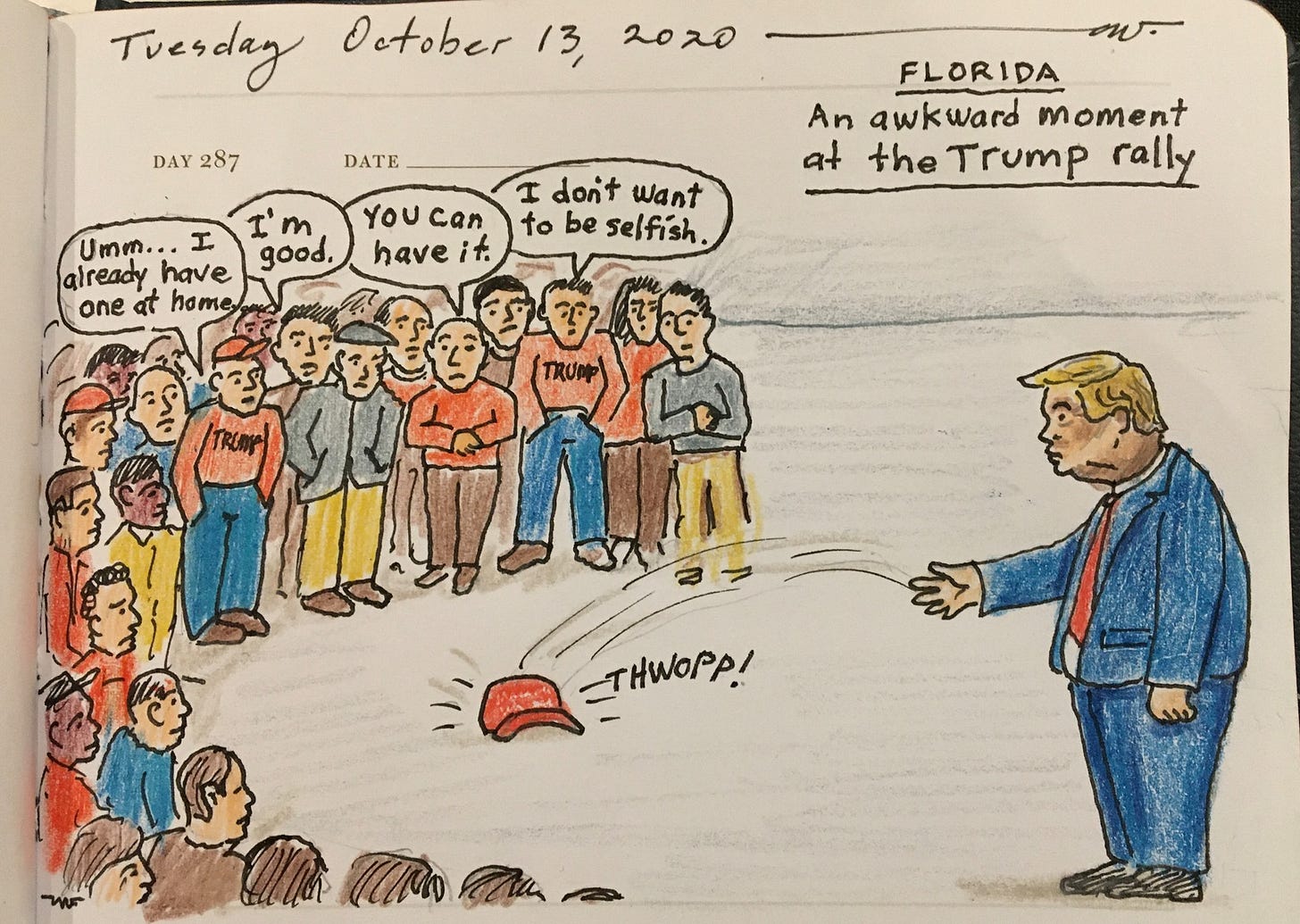 Michael Fitts is an artist based in Charlottesville, Virginia. You can learn more about Mike's work here, here, and here.
Driving in Virginia could become a lot different. And police aren't happy about it
New legislation passed by the Generally Assembly is headed for the Governor's desk. The legislation would bar police from pulling drivers over for tinted windows, faulty brake lights, headlights out, loud mufflers, objects dangling from rear view mirrors, expired inspection stickers [less than three months expired], and outdated tags. And the big one -- the bill would block police from searching vehicles if an officer smells marijuana coming from the car. Read more…
Local restaurant scene braces for winter
Not only do restaurants need to brace for winter, so do restaurant goers. Health experts are already warning about the increased risk of contracting COVID-19 as winter approaches, and indoor dining and going to bars rank among the riskiest activities for people [https://www.isms.org/Resources/For_Physicians/COVIDchart/]. If Charlottesville restaurants are going to survive, they are going to have to get creative.
Chicago just held a global design competition for ideas to solve the winter dining problem. The winners include an economical heated table design common in Japan, cabins or "igloos" inspired by ice fishing huts that fit in a parking space, and partial enclosed "blocks" spaced down the street that combine the open-air heated table idea and the enclosed cabin idea. Link: https://www.yankodesign.com/.../ideos-winter-dining.../
In Detroit, a place called EastEats has already been serving dinner to folks in 12 geodesic domes built on platforms. There are all kinds of other ideas to use yurts, igloos, blankets, and fire pits. Of course, many of these ideas could be too expensive for most restaurant to implement.
To create space for these ideas, Charlottesville may want to do what they've done in Milwaukee, creating the Active Streets for Businesses Program, which allows restaurants to use streets and sidewalks for outdoor dining. "Oh my God, it saved our (butts)," said one restaurant owner. Expanding use of space for restaurants downtown would also be a start.
Here's some good information from The Eater, a survey of 140 doctors conducted by the Illinois State Medical Society and Illinois Medical Professionals Action Collaborative Team to access activities and the risk they pose to coronavirus exposure. Here's what they say about eating out:
"...Attending an event with more than 50 people — like a concert or religious service — topped the list. Going to a bar ranked right behind at No. 2 in the upper echelon of the "high exposure risk" category. Eating inside a restaurant ranked in the same category, but was a little safer. The survey shows indoor dining ranks in the same high-exposure danger zone as traveling on an airplane, playing football or basketball, or sending kids to school or camp...."
"....Wearing a mask along with observing social distancing drops going to a bar indoors into "medium exposure risk." Eating at a restaurant with those requirements drop the activity into one tier below, to "lower exposure risk." Critics will point out that while customers can take their own proper safety responsibilities, they can't control the behaviors of others who can make situations more dangerous by wearing a mask below their noses...."
"....The survey also concludes outdoor dining poses a medium threat without a mask and social distancing, and shrinks to very low with proper safety precautions. Eating takeout, with or without a mask and social distancing, ranks among the safest activities in the "very low exposure" category...."