From Comedy to Tragedy: what I saw at the Unite the Right Rally in Charlottesville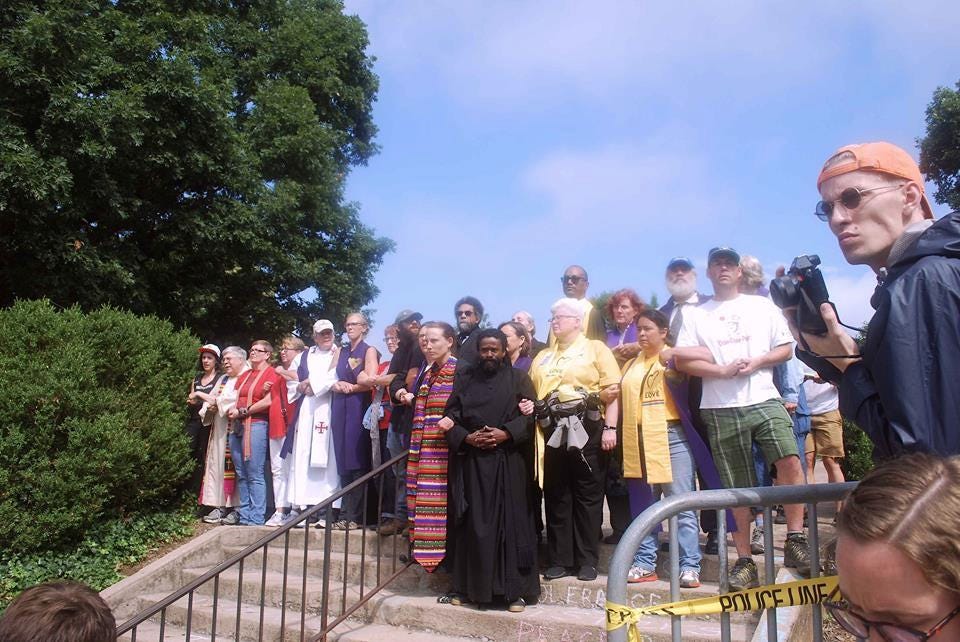 By David McNair
The first thing I saw when I approached the Unite the Right rally on Saturday, August 12 here in Charlottesville was a guy across from Market Street Market selling bottled water for $2 out of his car, saying, "I figured I had to make the most of it." The next thing I saw were a group of Unite the Right protesters gathered on the corner of Market Street and 3rd Street NE, dressed like middle-schoolers going to a war games-themed birthday party, with make-shift helmets, shields, and batons. All this was at first quite comical. The group paused on the corner for a moment, issued an obscure kind of war cry, and marched fast toward the park with various photographers running backwards quickly trying to capture the action.
At the park, the Unite the Right protesters had already gathered in a double fenced off section of the park, and you could stand and view them like exotic animals in a zoo. They all faced outward, pressing against the steel fencing, and harassed and verbally abused onlookers, many of whom returned the favor. There was a lot of vulgar harassment of women from the group, and I heard one guy say to a woman, "You're a little chubby around the edges, but I'd f##k you, Bitch." There were women with them, too, and I noticed how they had no expressions on their faces as the men they were with said this stuff. Still, it all seemed comical. Were these guys serious? Meanwhile, I spotted what appeared to be self-styled, bearded militiamen walking around in fatigues and assault rifles with odd assortments of insignia on their "uniforms." They all looked very serious, and no one I spoke to could tell me exactly why they were there, but at that point their inscrutable countenance seemed comical, too. Were they expecting some kind of armed ambush from some opposing guerrilla army? Meanwhile, various public officials and notable citizens milled about, seeming a little amused by this particular circus that came to town. They could stand safely at the edge of the fencing around the park and observe various white supremacists and neo-nazis spewing slogans and insulting people. I saw friends and colleagues and we had time to chat. A couple of local guys had thought to put loud speakers on the top of a nearby building, and they had the words of James Baldwin playing in a continuous loop. Nearby a guy had set up an easel and he was painting comic book-style portraits of Robert E. Lee and Donald Trump.
On the steps to the Market Street entrance to the park a group of clergy, including Harvard scholar Dr. Cornell West, blocked the entrance and quietly demanded that the Unite the Right protesters gathered below them "stand down" and not enter the park. this standoff went of for a few moments, until the Unite the Right protesters finally walked up the steps and pushed them violently aside.
That's when things seemed to shift, that's when it started not to be so comical. Fights in the street broke out shortly after that between Unite the Right protesters and counter-protesters. And over the next 45 minutes or so that intensified. At one point I was standing beside one of Charlottesville's city councilors as he tried to film the scene, and had to nudge him aside as a smoke bomb canister came hurling toward us. Rocks, tear gas, bottles filled with bleach, and balloons filled with urine would follow. I saw bloodied heads and faces. I saw scared people running past me, other who looked like they would gladly smash you in the face if you looked them. A saw a TV crew flee the tent they had set up under across the park. I watched as an African-American TV camera man tried to put his camera on a tripod, but was having trouble because his hands were shaking so much. I heard someone say, "The cops have vanished." And sure enough, I looked around and the state police who had been standing along the fencing earlier were gone.
I then looked up and a screaming, angry mob of white supremacists and neo-nazis had totally taken over the park, ringing its edges with their home-made riot gear. Not only was this not comical anymore, it was frightening. Why weren't police stepping in now? At that point, you knew something bad was about to happen, that people were going to get hurt, that a surge of violent energy had been let loose on our town. Within the hour, three people would be dead, and dozens injured.