Belmont Bridge Vortex: Do we really WANT a new bridge at all?
After nearly 20 years talking about it, you have to wonder...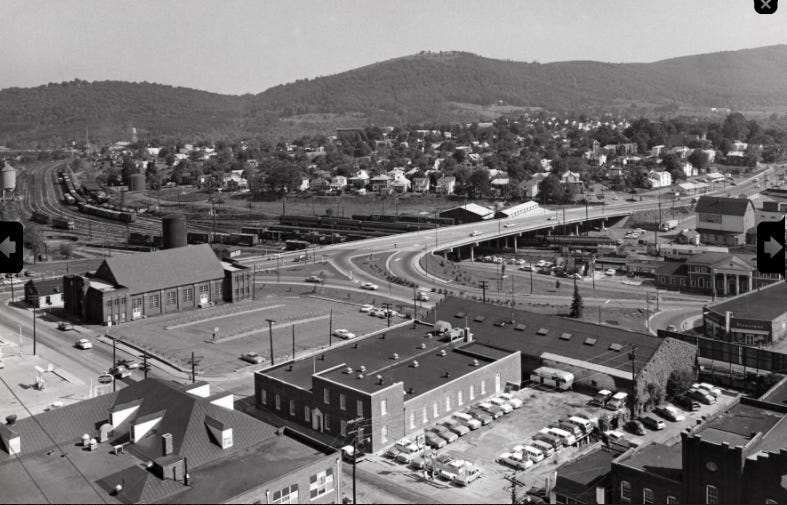 As City Council considers moving forward with the Belmont Bridge replacement project, it's worth taking a look back at how we got here, and whether or not we missed an opportunity to imagine something a little more ambitious for our downtown — something perhaps a little less automobile-centric and little more pedestrian-centric — lured as we have been instead by the promise of millions in state and federal funding for a brand-spanking new bridge.
In 2012, Daniel Bluestone, an architectural historian at UVA, who now directs the Preservation Studies Program at Boston University, posed this question about the proposed Belmont Bridge replacement project: "why are we spending $14.5 million [now $31 million] to build a highway bridge over a railroad track that has perhaps five to seven trains a day?" As Bluestone pointed out, the circa-1961 bridge was built at a time when there was a much larger rail yard beneath the bridge and as many as one hundred trains passing through each day. Good point. But here we are in 2020 still planning to build a new highway bridge through downtown and over a railroad track.
[Notice the size of the rail yard in the photo above (photo by Ed Roseberry), circa the early 1960s, and how the off ramps to downtown were eventually removed in the photo below. Also, check out the video Bluestone did here about the bridge project or at the bottom of this story.]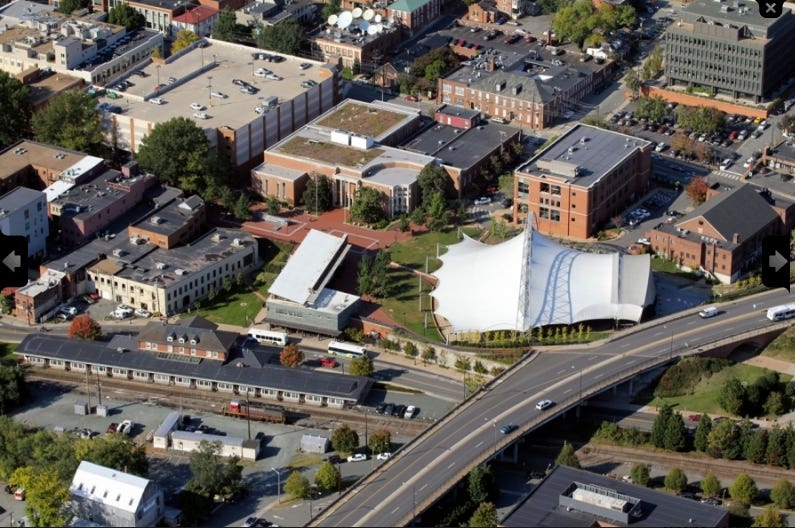 Also, consider this: in 2003, the city hired a design firm to focus on extending the life of the bridge, but around 2010 the lead engineer of that firm, MMM Design Group, a Norfolk-based engineering and design firm with a local office [who famously designed and engineered the re-bricking of the Downtown Mall as well], began telling city officials that the bridge needed to be replaced. MMM Design Group was paid $714,000 for its services and was also awarded the contract to replace the bridge. In 2014, the company announced it was going out of business after 70 years, revealing they had been struggling financially because of the Great Recession.
So, did the Belmont Bridge really need to be replaced in the first place? Was MMM Design simply trying to drum up work? Here's what a local developer had to say about that:
"I've dealt with rusty steel all my life, and it's not very rusty," says [Oliver] Kuttner, pointing up at the bridge's massive beams. "This is completely repairable."

Kuttner says that while the 1962 bridge design may force the purchase of several new components, he says that a totally new bridge wastes money, rewards neglect, is "completely silly," and will probably send money to out-of-area firms. He points out that Californians recently found that many of the $7 billion worth of contracts they awarded for the replacement span of the Oakland Bay Bridge went to companies in China.

"When you repair stuff," says Kuttner, "the money tends to stay local." - reporting for The Hook by Hawes Spencer
Indeed, money has always had a way of influencing projects like this. Check this editorial in the Daily Progress about the construction of the existing Belmont bridge from May 7, 1957.
"If the people of Charlottesville had freedom of choice as to the use of this [federal-state money], it is doubtful they would put it in a new bridge," reads the editorial, noting that, like it is now, that portion of federal-state funding for the project could only be used to build a new bridge. "There is a strong case for more local control over the use of our money in such matters." The editorial suggest the money might be better spent dealing with growing traffic problems at other locations, or on fixing school buildings, or making sure our water supply plan was secure. [Plus ça change, plus c'est la même…]
The no bridge bridge design
In 2012, UVA's School of Architecture organized a design contest for the proposed new bridge, dubbed "Belmont Vortex," which was led by a renowned visiting architect from Spain, Eduardo Arroyo. Proposals from 29 student teams and 30 faculty members were submitted. As you might recall, the winning design called for something totally unexpected — removing the Belmont Bridge entirely.
The design called for an at-grade crossing over the Buckingham Branch, a freight railroad that leases the line from CSX. The design also called for removing the Pavilion and relocating it to a vacant part of the Ix Park property along Monticello Avenue. All this would make room for a large Farmer's Market, public orchards, park space, and more mixed-use development on the old bridge easements, something more consistent with what famed designer Lawrence Halprin had in mind for that end of the Downtown Mall.  
The A-school folks weren't naive about how this would be received. 
"My team every now and then would say, 'Wait, are we seriously going into this bridge competition without a bridge?'" said the project manager for the winning design. "I think it would be difficult to convince government officials that a pedestrian-centric design should be chosen instead of an automobile-centric design"
Indeed, one local journalist called the idea "lunacy," adding "where improvement is needed, their answer is a kinky proposition based on abstractions that are fun in classrooms but ignore reality." A local government official I spoke to called it "fanciful and unworkable."
Keep in mind, "reality" and "workable" as it concerns the Belmont Bridge has included close to 20 years of planning meetings, and countless local news stories about that planning, not to mention paying a struggling engineering and design firm $714,000 to tell us it needed to be replaced, then awarding the contract to replace it to that firm.
"But I do think that it is the best option," the project manger added. " And I think a city like Charlottesville is just the place to take a stand on this important subject."
At the time, only one City Councilor expressed any support for the no-bridge design.
"I love the idea of no bridge," said newly elected City Councilor Dede Smith. She recalled speaking to Chris Gibson of then Gibson's Grocery on the northeast corner of Avon Street and Hinton Avenue, who grew up in the area and remembered when there were many more trains that came through. Smith said she remembered him speculating, 'what if there were no bridge?' Smith recognized it would be difficult working with the railroad [owners of the the Buckingham Branch would have to agree to open and maintain an at-grade crossing. There are two downtown already, plus an underpass on 4th Street], and that the plan presented obstacles, but said "the idea would open up many more attractive possibilities for redevelopment."
Some have argued that the railroad would never agree to a at-grade crossing at the Belmont Bridge location. Indeed, back in 2012, Steve Powell, then president of the Buckingham Branch Railroad, argued that there was a national trend toward eliminating crossings for safety reasons. Crossings also have to be maintained by the railroad. But last year, Virginia announced plans to buy 186 miles of tracks on the Buckingham Branch Line, between Doswell and Clifton Forge, which runs through Charlottesville, to extend passenger service, so negotiations for an at-grade crossing would presumably be with the State.
Many people didn't want a highway bridge built through downtown back in the 1960s, but at least it had a purpose - hundreds of trains passed through town every day. Today, as Bluestone pointed out, only a handful do. But we're still going to build a $31 million highway bridge?
In the end, the plan that City Council has before them now naturally includes a new bridge with a lot of pedestrian features, an attempt to have it both ways by make what is basically a highway bridge that cuts through and away from downtown appear pedestrian-friendly.
Here's a look at the latest design: https://www.belmontbridge.org/wp-content/uploads/2019/09/2019-08-20-BelmontBridge_BAR-Presentation-FINAL.pdf.
But $31 million is a lot of money. Like the Daily Progress editors speculated in 1957, if the people of Charlottesville had freedom of choice as to the use of this [federal-state money], would they use it to build a new bridge right now?
Project Gait-Way: Two Bridges
UVA Architecture Professor Daniel Bluestone talks about the Belmont Bridge project. Filmed an edited by Brian Wimer for Project Gait-Way: The Belmont Bridge Competition.